We can make the tile in your Orlando, FL home look like new again with our residential tile & grout cleaning services.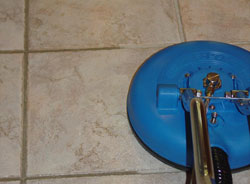 Proclean Properties Inc. has made it more affordable than ever to have your tile & grout cleaned – without sacrificing quality
Residential Tile & Grout Cleaning
As a homeowner or renter in Orlando, FL, you know how difficult it can be to clean the dirt off the grout lines. It's not that you are mopping your floors the wrong way. Dirty grout is something that is inevitable.
We are the leaders in residential tile & grout cleaning because of our 2-step process:
We use a state-of-the-art vacuum and high-pressure rinse that is safe for all ceramic or porcelain tiles.
We first mop the solution onto the floor with our green-sealed solution that does not harm your stainless steel appliances, carpets, wood floor or furniture.
We then use special tools to clean each and every grout line, getting it back to its original look.
Second, we use other tools that clean the tile and grout, leaving your tile looking brand new again.
We double-clean the grout lines because that is normally the dirtiest part of the floor.
If you have some tough-to-handle stains on your floors or upholstery, contact us at Proclean Properties Inc.!
Our eco-friendly residential tile & grout cleaning experts can accomplish amazing results with state-of-the-art technology and products that are safe for your family and the environment.
Get up to 20% off your residential tile and grout cleaning services! Call us at 407-278-8191 to book today!
Check Out Our Residential Tile & Grout Cleaning Specials!
Kitchen and Breakfast Room: $79.95 – up to 175 square feet
Kitchen and Bathrooms $119.95 – up to 300 square feet. Includes up to 3 bathrooms on the first floor!
Whole House Tile & Grout Cleaning – What an amazing deal at $299.95 for between 750-1000 sq ft
Please call for pricing if tile is less than 750 or more than 1000 sq ft.
Call today to book your residential tile & grout cleaning today! Be sure to mention our special limited-time offer to get this pricing. Act fast — these prices won't be around for long!
GROUT SEALING PROTECTION
After professional residential tile & grout cleaning is complete, it is always recommended to add a clear grout sealer, which makes the grout lines easier to maintain between professional cleanings. Our sealant slows down the penetration of oil, grease and detergent residue, making the lines easier to clean and helping them stay clean longer.
---
For more information about our high-quality residential tile & grout cleaning services in Orlando, Windermere, Winter Garden, Winter Park, Oviedo, Longwood, Wekiva Springs, Sanford Apopka, Lake Mary, Doctor Philips, Ocoee, Waterford Lakes, Maitland, or Altamonte Springs give us a call today!